As bipeds with mobile shoulder and hip joints, human beings have a wide range of motion available.  Yet physical challenges, such as the force of gravity and our heavy heads, limit the extent to which we actively tap fully three-dimensional movement. And mental habits can also limit our access to space.
Rudolf Laban succinctly identified two cognitive maps of space. The first is the dimensional cross and the cardinal directions of up and down, right and left, forward and backward. Laban relates these movement directions with stability.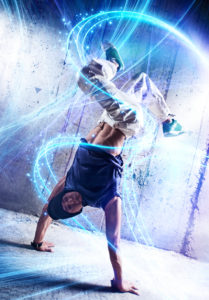 In contrast, Laban also identified four diagonal lines of motion. Think of these as radiating lines that connect the opposite corners of a cube or rectilinear room. Laban relates these sharply tilted lines with mobility.
Then Laban makes an interesting observation. Since most movements are neither completely stable or totally mobile, "the trace-forms of living matter" follow trajectories that lie between the dimensions and diagonals.
Laban went on to develop lengthy sequences of movement that follow these deflected pathways. These lines of motion, which are more subtle than normal cognitive maps of space, are mentally challenging.  Moreover, they physically test balance and range of motion.
Nevertheless, Laban's choreutic models encourage living fully in three dimensions.  Find out more in the forthcoming MoveScape Center correspondence course.