On November 10th close to 65 Labanites gathered at the Performing Arts Center at the University of Maryland, College Park, to celebrate the opening of the Irmgard Bartenieff Archive.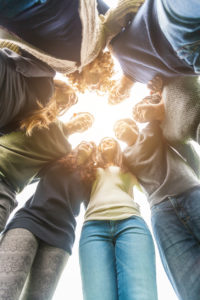 Susan Wiesner, a digital humanist, had organized the event. Here is birds' eye view of the happy gathering.
– Forrestine Paulay and Martha Davis in conversation about their respective studies and research with Irmgard
– Carol-Lynne Moore – Bartenieff: Icon of Possibilities
– Ann Hutchinson Guest and others –  sharing memories of Irmgard
– Movement sessions led by Peggy Hackney, Tara Francia Stepenberg, and Karen Studd
-Robin Neveu Brown (and husband) – comedic performance piece on giving birth through Laban lenses
-Catherine Eliot – Bartenieff's Legacy and Occupational Therapy
-Rachell Palnick Tsachor – Movement and Trauma
-Susan Wiesner – film showing of "Schrifftanz Zwei" – a reimagining of Bartenieff's "Chinese Ballad" choreography, based on archival notes and floor plans
The event closed with a movement choir led by Catherine McCoubrey
This was one of the most satisfying events I've been to – a wonderful reconnecting with old friends and new. Hats off to Susan Wiesner, curator Vincent Novarra, and the whole staff of the Performing Arts Library Special Collections!